DENBA JAPAN's SDGs Initiatives
Respecting the purpose and spirit of the United Nations Development Program (UNDP) and the Sustainable Development Goals (SDGs), our corporate social responsibility is to reduce climate change and food loss, innovate, sustainable consumption, and revitalize local communities. While building fair and good relationships with stakeholders, we have also accumulated valuable experience and expertise. We will contribute to the improvement of corporate value from a long-term perspective.
Our strategic plan focuses on key areas such as poverty alleviation, climate change and disaster risk, and economic inequality, as well as "environmental protection (manufacturing of environmentally friendly products)", "regional revitalization (development of sustainable recycling-oriented agriculture) and "reduction of food loss". We are actively working on such things as "development of recycling-oriented agriculture" and "reduction of food loss". we will continue to build, maintain, and operate an efficient management system useful to the environment, people, and society.
Children's cafeteria×DENBA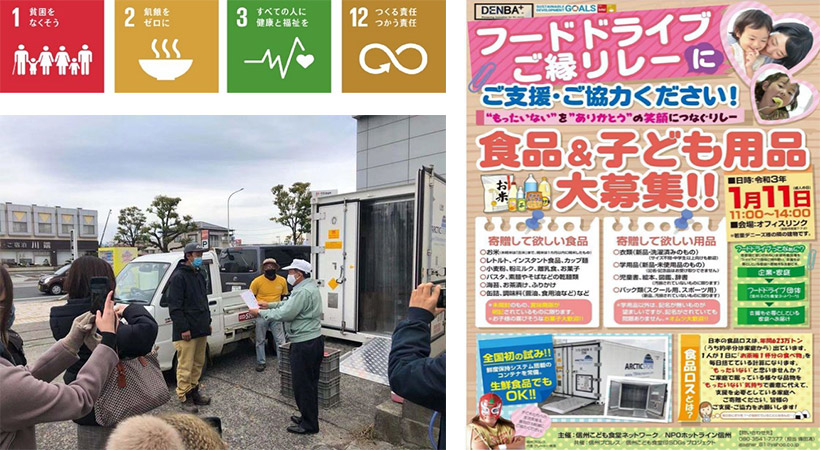 Contributing to reducing food loss by maintaining the freshness of donated ingredients.
The children's cafeteria in Shinshu has begun to use DENBA containers for the storage of ingredients. It is possible to reduce food loss (food waste) by keeping the freshness of ingredients provided or donated by companies for a longer period. We will aim to spread it nationwide from the Shinshu Children's Cafeteria Network.
■From the Shinano Mainichi Shimbun dated January 9th
The children's cafeteria in Shinshu began to use reefer container to store the required ingredients. The ingredients are provided or donated by some companies. The use of containers can solve the problem of the difficulty in keeping freshness of ingredients. This initiative aims to reduce food loss (food waste) and is committed to contributing to the SDGs (sustainable development goals) advocated by the United Nations.
Ships×DENBA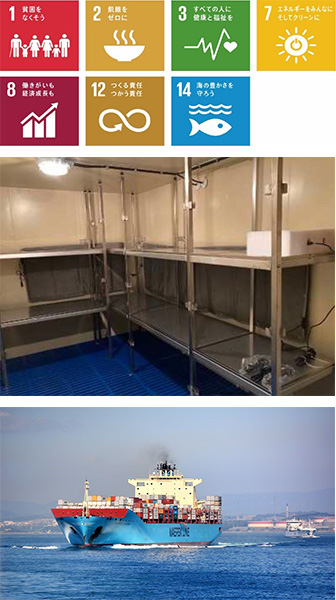 Contributing to maintaining the health of crews, reducing food loss (food waste), and reducing the amount of heavy oil used when delivering foods.
Until now, in the case of long-term operation, deterioration of fresh ingredients has become a problem, and there also has been a problem with the eating habits of crews due to the inability to store ingredients for a long period of time. By installing DENBA+ on the ship, it is possible to maintain the freshness. Taking one of the ships using DENBA+ as an example, fresh cabbage can be stored for about a month, and crews can eat fresh vegetables, which is very beneficial to their health. In the future, we will contribute to the SDGs (Sustainable Development Goals) with the aim of spreading it to ships around the world.
■Excerpts from THE JAPAN MARITIME DAILY
Use DENBA+ on ships to bring better welfare to crews.
DENBA Co., Ltd., which develops and sells freshness preservation technology, is currently committed to selling its self-developed freshness preservation equipment to maritime companies. By installing DENBA+ in the food storage room on the ship, the freshness of the food can be better maintained. It is not only a benefit that can ensure a healthy diet for crews, but it can also reduce food waste, which is of great benefit to shipping companies, ship owners and ship management companies. In the future, it is likely to attract attention as a contribution to the SDGs (Sustainable Development Goals).
A ship with DENBA + installed in the food storage compartments were highly praised by the Australian Maritime Safety Agency for their consideration of the health of crews. In Australia, PSC (Port State Control) is being strengthened to control the spread of COVID-19, and DENBA + has made an important contribution to improving the treatment of crew members.
The installation of DENBA+ is also very simple, just put the main unit in the storage compartment and hang the discharge mat on the wall. Marine Net is working with DENBA to produce a detailed installation guide manual on how to install the discharge sheet to maximize the effect of DENBA +. We are also making a video of the installation guide, so that during the COVID-19 pandemic, the crews can easily install DENBA+ by themselves according to the video if the staff cannot go to the ship to install. The introduction of DENBA+ can not only enable the crew to maintain a healthy diet, but also greatly reduce food waste and contribute to SDGs. It has attracted the attention of shipping companies, ship owners and ship management companies.
Contact information
[Distributor]
Marine-net co., LTD.
Mandarin orange farmer×DENBA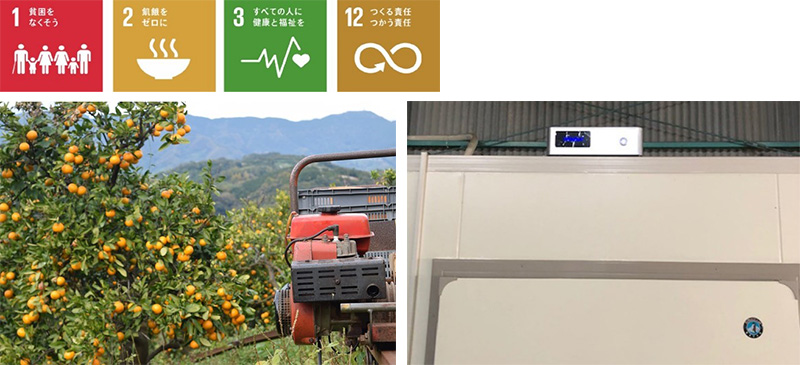 There are a lot of edible ingredients that have not been delivered to consumers and turned into production waste or food waste. This is a problem that needs to be solved urgently.
The food self-sufficiency rate is declining year by year, and many food ingredients need to be imported. The decrease in domestic consumption of foodstuffs is a major factor affecting the income of agricultural producers.
In addition, because of the aging society, the declining population of agricultural producers due to instability of income, and the expansion of abandoned farmland, there is a concern that one day we may no longer be able to eat domestic agricultural products in the future. In order to support those agricultural producers who, support our dietary life even during the COVID-19 pandemic, we also give priority to buying food that cannot be sold on the market and food that is not harvested but edible, thereby reducing production waste and helping to stabilize the income of agricultural producers.
Health Care×DENBA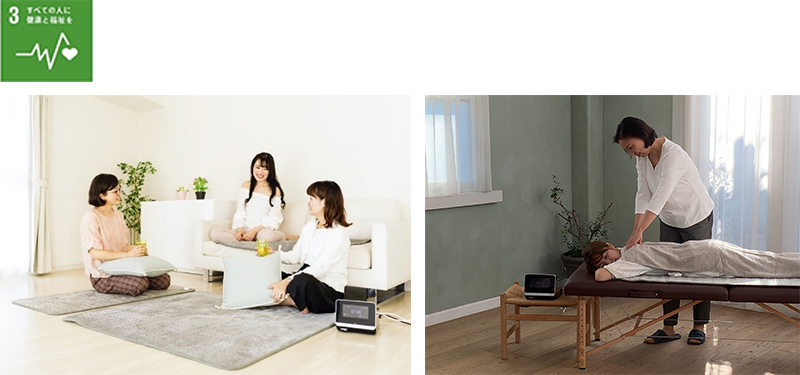 DENBA technology was first applied to water-activated products, and then it was applied in the fields of food and human health.
DENBA HEALTH is a product that allows people to experience the DENBA space at any time at home. People of all ages can use it. As a health device with a new idea of ​​working on the water of the whole body, its contribution to health is attracting attention from authorities in various fields and conducting research. Our sales volume has reached 30,000 units. A few days ago, we launched a new product, DENBA Medical, which is an electric potential therapy device for home use that has obtained medical device certification. We often receive amazing joyful voices from customers who use DENBA HEALTH. Our goal is to provide customers around the world with a safe and comfortable daily life in the DENBA space, we will strive to become your life partner in the era of 100-year life.